Hammer tackers, for some time now, have become the industry standard when it comes to installing roofing underlays and applying house wrap. Where it falls short is that staples by themselves do not receive the manufacturer's nod of approval for attaching most materials. And thus, cap nailers are the next best alternative.
Thus, you dear readers are probably looking into acquiring a trusty cap nailer for yourself. With so many variants competing in the market, vying for your attention, it becomes a fair bit of work to try and narrow down the best cap nailer for you.
So today, we are going to look at the top 5 cap nailers currently available in the market.
List of our Favorite Picks
| Image | Name | Specification | Price |
| --- | --- | --- | --- |
| Top | Bostitch Cap Nailer Model N66BC-1 | Dimensions:10 x 6.5 x 12 inchesItem Weight: 5.8 pounds | Check Price |
| Top | Metabo HPT Cap Stapler, Pneumatic | Dimensions: 14.1 x 4 x 8 inchesItem Weight: 4.8 pounds | Check Price |
| Top | Cn100 Stinger Cap Nailer | Dimensions: 16 x 8 x 11 inchesItem Weight: 3.65 pounds | Check Price |
| Top | Freeman PPCS Pneumatic Plastic Cap Stapler | Dimensions: 9 x 5.88 x 10.63 inchesItem Weight: 4.52 pounds | Check Price |
Advantages of Having a Top-Quality Cap Nailer
So, what's in it for us? Using a cap system and a fastener means the cap itself expands the surface area of the fastener upon installation. Thus, the fastener is able to withstand harsher weather conditions than your traditional hammer tack system, thus preventing your house wrap or underlays from simply tearing off.
Added Protection
Because of this added protection, most manufacturers made it a requirement to install their various underlays and house wraps with the aid of cap nailers. The capped nails add extra strength to the attachments.
Can Be Used across a Variety of Materials or Surfaces
And they are not restricted to just house wraps and roofing underlays. They can be used in roofing, attaching sideboards, and even insulation boards. Now, cap nailers are vastly different from cap staplers.
Professional Finishing
Cap nailers demand a higher skill level (for obvious reasons). But you simply cannot beat their reliability when it comes down to achieving that professional level of finishing every time.
Extra Dependability
Simply put, cap nailers are much more dependable in all manners. The seal is watertight, so there will be no leakage, and the winds simply cannot pull the house wrap apart; the attachment is that strong. And on top of that, powerful cap nailers can push out longer fasteners.
Note: You may like our list of the Best Nail Gun for Baseboards 2020 – Reviews & Top Picks.
View Our Top 5 Best Cap Nailer Reviews
We have several options to look into when it comes down to considering the top cap nailers for our use case. They stand out from each other by virtue of their features, but all are built to serve the same principle; driving capped nails.
1. Bostitch Cap Nailer Model N66BC-1
With a 100 PSI of driving power straight from the package, the N66BC-1 from Bostitch is the highest rated out of all our recommendations. It is also the most frequently bought variant in the market. The driving power count means that you would be plowing through those 1-inch boards in no time at all.
Saying that we were blown away with its build quality would be quite the understatement. It is composed of magnesium, which is very lightweight in nature, You certainly notice the weight, or lack thereof when you attempt to climb up and down the ladder a few times with this thing in tow.
The Bostitch is rated to drive nails of up to 2 and a half inches long. Therefore we can comfortably get away with using this on 2 inch thick foams. The N66BC-1 can store up to three hundred coiled nails. However, it can only store a hundred plastic caps.
This means that you have to refill the cylinder three times for every coil of nails. Also, the cap nailer features a dial that allows us to freely adjust the depth to which the nails are set for quick and hassle-free adjustment. We have had very low counts of misfire during our testing.
One of the more overlooked features that managed to catch our eye was the adjustable exhaust. The process is completely tool-free. Say, for instance, you have the nailer up to your face (happens more often than you would think).
You can simply adjust to having the exhaust face away from you so that you are not affected by the blowback. Neat!
Pros
100psi of driving power straight out from the package
The unit is very lightweight
The unit comes with an adjustable depth dial
Tool-free exhaust adjustment
Very low misfire or error count
Cons
Small plastic cap storage compared to the nail coil
2. Metabo HPT Cap Stapler
Sounds kind of obscure? Never heard of the name before? Nothing to fear. This is simply the well known Hitachi N3808AP renamed and rebranded. Yeah, we were not too stoked either with the sudden name change.
What can we say? The N3808AP leads in its class. There is no physical difference between our unit (the Metabo) and its twin, the Hitachi. The unit is a good balance of performance to price and precision,
And the cap stapler has a two hundred cap and staple capacity, unlike our previous recommendation, which had uneven capacities for nails and caps. You can actually see when you are about to run out, courtesy of the translucent side load cap magazine.
But where this particular unit especially pulls ahead of the competition is in the weight distribution department. Hitachi, or rather, Metabo, has done a stellar job of the weight distribution, and the unit feels very well balanced in hand. The unit is very lightweight at only 4.8lbs, though this meant it felt a little cheap to hold.
However, it makes up for it by employing a textured grip. Another downer with this is that the caps used are proprietory. The cap stapler with only accept and work with Hitachi branded 1-inch caps only. If you are like us, living some ways from the nearest large hardware depot, you will have a hard time sourcing these caps.
This is a thing to put up for consideration when buying this particular unit. All in all, we would say this is a fairly solid offering. The name may be confusing to some, but you can always look it up to be sure. But that weight distribution alone makes up for all the other inadequacies.
Pros
Exemplary weight distribution; feels exceptionally well balanced
Equal storage capacities for nails and caps
Translucent side load magazine
The unit comes with a textured grip
Very solid offering
Cons
Obscure brand
Uses proprietory caps
3. Cn100 Stinger Cap Nailer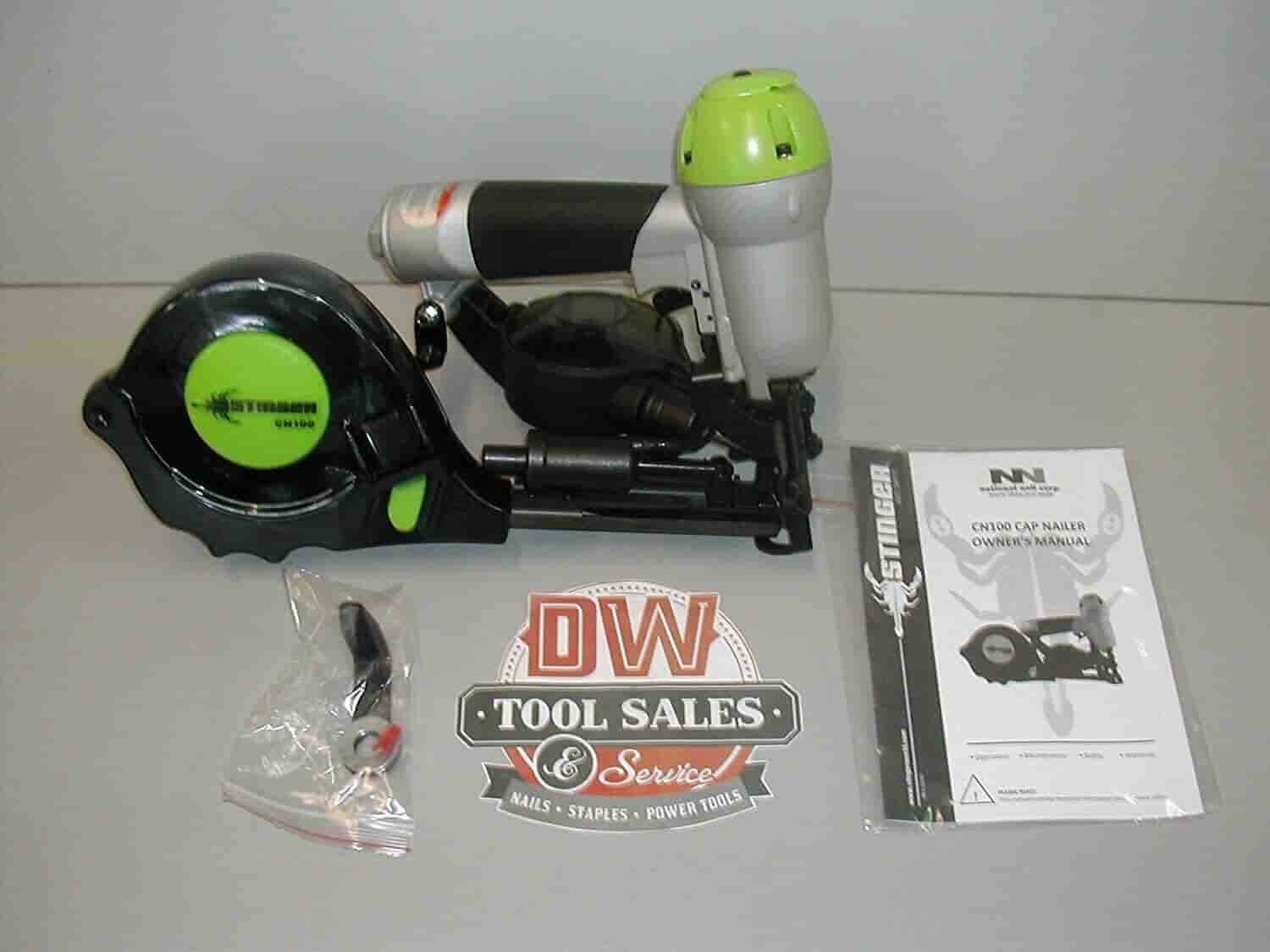 You will simply not be lacking when looking into purchasing a cap nailer that best suits your needs. The two main features that set the other cap nailers from the CN100 is that they are either simply too bulky, or need to be reloaded frequently, or both.
Weighing in at about 4.9lbs, it is pretty lightweight if you ask us. Featuring an ergonomic design, the second generation CN100 from Stinger is, in our opinion, the premier pneumatic cap nailer.
Capable of holding 200 rounds of nails and caps (note the equal number of caps and nails, not too much to ask from other manufacturers), and maxing out at a cycle rate of 5 nails a second, the CN100B maximizes the time between reloads, thereby increasing productivity.
You certainly notice the weight when you have to use the tool for prolonged periods. The tool is fairly well balanced, so you would not be straining your hands with long usage periods.
The versatile tool features a bump-fire setting, for sequential firing modes and rapid installation. They included a 360-degree tool-free exhaust. No worries about getting exhaust gases shot to your face. The added depth of drive adjustment is also tool-less.
Reloading the CN100 is an absolute breeze. Simply disconnect the air hose, add a new cap reel and feed it through the chute. Add a new nail coil and insert the leading nail to the nose. Connect your air hose, and that is it. You are all set to begin. The reload time in total is under 30 seconds.
Easy to use, quick, durable, and versatile, the innovative C100 sits at the very top of our recommendations list, and for a good reason too.
Pros
The unit is very light
Can hold 200 rounds of both caps and nails
5 nails per second cycle rate
Very fast reload time
Fast operation, durable, and very versatile
Cons
Expensive compared to the rest of the competition
4. STINGER CN100B-KIT 1" Cap Nailer with Nails and Caps
The B variant of the CN100 comes with a pack of Stingers' very own Nail Pac. And the Pac (bear with us for the name) comes with ten reels of caps and ten coils of nails. Neat! These cap fasteners are ASTM wind tested (American Society for Testing and Materials).
Coupled with the nailer, the combo puts up a good competition. Being ASTM tested means that they are capable of withstanding gale-like forces, winds with speeds exceeding 150 miles per hour for 60 minutes. They are also rated to provide superior UV protection when compared to other cap fasteners available in the market.
Overall packaging is about the same as the variant that does not come included with nailers and caps. The nailer itself came in a plastic case. And the nails and caps came in two separate boxes from the nailer case. It is very convenient as you can go about using one without having to open up the other.
Also, the caps and the nails are equal in number, so you will not have to take a trip to your local hardware depot of you ran out of one and not the other. But then again, with the 5 nails per second cycle rate of the nailer, we reckon you would run out of both the nails and caps sooner than later.
This is by no means a disadvantage. Rather, this exemplifies the nail capping prowess of the CN100B. You might find the caps separating from the breakaway connection every now and then, but the sheer maneuverability and the brilliant weight distribution of the nailer more than makes up for it.
We have talked loads about the included caps and nails. But that counts for nothing if the reload process is not as efficient. Fret not readers; the reload process is dead easy too. Simply disconnect the hose, and add the relevant nail and cap reels. Reconnect the air hose, and we are set. Pretty simple, eh?
Pros
ASTM certified, extremely durable caps and nails
Decent packaging
The nailer itself is highly maneuverable
A killer combo offering from Stinger
Cons
The caps tend to separate from the breakaway seal during heavy usage
5. Freeman PPCS Pneumatic Plastic Cap Stapler with Staples
Planning on getting a pneumatic cap stapler but do not want to spend big bucks for one? The PPCS from Freeman is the one for you. It might go easy on your wallet but is not a slouch by any means. And it features all the bobs and whistles that other, more expensive cap staplers come with.
We especially recommend this for private home use. It makes installing the underlayment an absolute breeze. And it gets the job done quickly as well. You can get a section of your roof on by yourself in a couple of days.
In fact, we were so impressed by this that we would think twice about naming it the best roofing cap nailer in our recommendations list. You simply cannot go wrong with acquiring this for yourself, be it for home use or for use in job sites.
The magazine is made out of anodized aluminum, making it very durable, vastly improving the life of this cap stapler. And the stapler itself is bottom loading, meaning that it is very simple to reload on the go. This massively reduces the downtime between reloads when you are working.
Like a number of others, this unit also features a tool-free way to adjust the exhaust. This basically means that you will not have hot exhaust gas blown to your face when trying to precisely staple down a material.
See? We were not kidding; we said that this offering from Freeman features all the bells and whistles of its more expensive counterparts. And we would consider this to be a solid bang for our buck.
Pros
Features a magazine made out of anodized aluminum
The stapler is bottom loading
Tool-less exhaust adjustment
Very competitively priced, when you consider its features
Compatible with Bosch's own range of staples
It comes with a protective bag
Cons
We are not too sure about the longevity in harsh workloads
Read more:Finding the Best Nail Gun For Hardie Trim
How to Make Your Pick for the Right One
Before you buy a cap nailer for yourself, be it for work or for DIY at home, you need to know what to look for. These factors will help you to make an informed decision. Let's get to know them.
The Size of the Cap Nailer
The size of your cap nailer is important as it basically dictates how easy it is to maneuver the nailer. A good thing to remember; not all tools are made the same. This comes to play here as well. Other than that, not all hands are sized the same either.
We know, we know, hands are essential parts of the body, but there is a fine line between what is a part of your body and what you use to aid it further. Too big a dimension may result in difficulties whilst handling the cap nailer.
Therefore, it is advisable that you note down the dimensions and the weight of the models you have in mind. As a side note, do remember what you need to nail down. That directly affects the size or length of the nails you will need to use. Longer nails require bigger, more powerful cap nailers.
Nail Depth Adjustment Feature
Some cap nailers come with this feature, whilst others ignore it. Again, it depends on the variation in terms of the materials you come across on a daily basis. The adjustment is usually made using a dial or a switch, depending on your model.
A good example would be the Bostitch cap nailer we have featured in our article. It comes with a Dial-A-Depth adjustment mechanism that allows is to change the depth to which our nails are set. Why is this important? Different materials require different depths of nail binding in order to be held together.
Controllable Exhaust
This is one of those features that you can forgo as a cost-saving measure, but we highly recommend that you keep a lookout for it. We cannot stress enough about the number of times we have had exhaust gasses blasted at our faces.
Having an adjustable exhaust means that you can simply adjust the exhaust to blow away from the direction of your face. A godsend, if you ask us.
The Cap Nailer's Design
The design of the cap nailer does have an impact on how you are going to use it. Some are designed for DIY; others are for heavier workloads. You cannot switch out one for the other. What we basically mean by this is, buy one that best suits your needs. You do NOT need a heavy-duty nailer for DIY projects.
All in all, these are a few things you should keep a note of as you browse through the caps nailers on our list.
Note: You may like our list of the Best Palm Nailers Review | Top 5 Picks
Frequently Asked Questions (FAQs)
Below are some of the most commonly asked queries regarding the best cap nailers:
What is a button cap?
A circular piece of polyurethane used to expand the surface area of a fastener upon installation. These button caps are also used to prevent leaks. Usually, a nail or a staple pokes through this cap to fasten two materials together.
What is a cap nailer utilized for?
Cap nailers can be used anywhere from roofing to installing insulation boards. Their main usage stems from the need for a weatherproof seal.
Which is better, roofing nails or staples?
One word: reliability. The general objective is to fasten two materials together. Cap nailers are much more dependable in all manners.
This is because of the enhanced sealing offered by nailing down your material, that is to say, the seal is tighter and thus ends up being water-resistant. Hence, if we were to consider the above factors only, we would ask you to go for roofing nails every time.
How do you load a Stinger cap stapler?
With your thumb and finger positioned on the thumb poles, pinch the side of the cover to open it up. Push the staple follower in and up to remove. Insert two strips of staples. Replace the follower in the tool behind the staples. Push it in to secure.
Place the cap reel temporarily in the cover, with the cap strip coming over the top of the reel. With the trigger depressed, insert the lead cap under the staples. Move the reel to the designated basket and close the cover.
Is hand nailing shingles better?
Yes, but only if the wood you are working on happens to be damaged. You will face difficulties in getting the damaged wood to accept a nail from a nail gun. If there are no gaps, only then should a nail gun be used. Otherwise, opt for hand nailing.
Final Words
So there you have it. These are our recommendations in regards to choosing the ideal roofing cap nailer and staplers according to your needs. They fall on separate price brackets, but all in all, none will let you down when we need to get the job done.
The best cap nailer, in our opinion, is the CN100 or the CN100B from Stinger. They provide a solid all-round performance. And our pick for the finest roofing cap nailer would have to go to the PPCS from Freeman. A solid cost to performance ratio, you will be hard-pressed not to keep this one in your consideration.
We hope our short article helped you in making a purchase decision. Happy hunting!