Up until now you've probably been relying on nailing your baseboards in by hand with a hammer. Or, maybe you have a nail gun but it's more trouble than it's worth.
You're probably looking for a nail gun that can help get all your jobs done better.
Finding the perfect nail gun can be hard work by yourself. That's why we have the perfect list to help you find the Best nail gun for baseboards and other projects.
Let's take a look our Favorites – Comparison
| Image | Title | Specification | Price | More Details |
| --- | --- | --- | --- | --- |
| Top | Metabo HPT Finish Nailer | Dimensions: 13 x 3.4 x 12 inchesItem Weight: 4.2 pounds | Check Price | Our Pick |
| Top | NuMax SFN64 Pneumatic 16-Gauge | Dimensions: 3.25 x 11.5 x 12.5 inchesItem Weight: 4.5 pounds | Check Price | Budget Pick |
| Top | DEWALT Finish Nailer, 16GA | Dimensions: 13.46 x 4.49 x 14.96 inchesItem Weight: 7.6 pounds | Check Price | |
| Top | Paslode, Cordless Finish Nailer | Dimensions: 18 x 17 x 6 inchesItem Weight: 10.8 pounds | Check Price | |
| Top | BOSTITCH Finish Nailer, Angled | Dimensions: 16.5 x 14.6 x 4.3 inchesItem Weight: 8.73 pounds | Check Price | |
Top 6 Best Nail Gun for Baseboards – Reviews 2021
1. Metabo HPT Finish Nailer, 15 Gauge
The name Metabo HPT might sound new, but you can be sure it's the same Hitachi Power Tools you know and trust. This nail gun is a great asset to your tool kit and will keep your jobs quick and effective. If you've never owned a nail gun before, you really can't go wrong with this one. On the other hand, it could prove as a great upgrade if you're looking for one.
The Metabo HPT finish nailer is an impressive 15-gauge nail gun. The integrated air duster is included and can clear away dust, debris, and any other dirt before nailing or gluing. Sequential and contact nailing are both great, but what happens when you want to switch between them during a job? You probably don't want to get out a different nail gun. This nail gun has a simple switch that will change the function from sequential to contact nailing.
To get a beautiful baseboard finish, you'll want a nail that is flush against the surface. The Metabo HPT nail gun has a depth of drive dial to adjust the depth for a flawless finish. On top of it all, the Metabo is very lightweight. It weighs a mere 4.2 lbs. This makes it ideal for long jobs.
Pros:
No-mar tip keeps work surface from damage
Light-weight and easy to wield
Great, high quality brand
Great and affordable price
Cons:
May experience frequent nail jams
2. NuMax SFN64 Pneumatic 16-Gauge
If you're looking for a great, high-quality nail gun for a super affordable price, look no further. The NuMax SFN64 is the highest quality nail gun you can get for the price. This makes it a great choice for any user. You can pick this nail gun up for a small price and get years of use out of it.
Many features make this nail gun a great nail gun for users of any experience level. First, this nail gun is extremely lightweight. The ergonomic comfort grip combined with the weight makes it comfortable for long term use. The less tired your arm gets, the better your job will look. Another great feature is the no-mar tip. This tip prevent damage to the baseboard or other surface while you're working. The quick jam release will also help you to clear jams without dissembling the nailer.
The NuMax SFN64 is a great tool for pretty much any job. You will find yourself using it for any job you have from interior or exterior finish, baseboards, molding, cabinet work and more. This nail gun is extremely versatile and durable. The sequential firing helps you finish faster and the depth adjust will provide a perfect, professional finish.
Pros:
Super affordable
Durable, dependable and high-quality tool
Versatile enough for any job
Lightweight and ergonomic grip provide a comfortable work experience
No-mar tip and depth adjust keep the finish flawless
Cons:
May experience frequent jams
3. DEWALT Finish Nailer, 16 GA
Dewalt is known for high-quality, tough, dependable products. This nail gun does not disappoint. Perfect for any job, this nail gun can be used for exterior, interior, framework, baseboards, and much more. It can be adjusted to fit 1" to 2 ½" nails, making it the only nail gun you'll ever need.
The Dewalt finish nail gun not only gets the job done amazing, but includes a range of features that make the nail gun even better. One great feature is the adjustable belt hook. This allows you to have the nail gun at your side when you need it. Another great feature is the custom nail depth. You can use this nail gun with a range of nail sizes, making it great for baseboards and other jobs. The Dewalt also has a jam clearing feature. This allows you to clear any nail jams without having to take the nailer apart.
The low-profile no-mar pad protects any work surface from dings while staying out of your way. Other models have a bulker no-mar tip that can get in the way of a flush finish. Not the Dewalt. The Dewalt also features a sequential action trigger. This allows you to seamlessly transition into sequential nailing if you need to.
Pros:
Nail depth adjustment from 1" – 2 ½"
Low profile no-mar tip to protect baseboards
Great tool for any job
High-powered for a great quality job
Cons:
Not compatible with every nail brand
4. Paslode, Cordless Finish Nailer Review
At first glance the Paslode may seem like an expensive option but the price is a small one to pay for this quality product. This is a nail gun that could last you a lifetime. The Paslode has high-quality build and amazing features to keep this nailer at the top of your list of preferred tools.
Let's look at some of the most powerful features first. The 7V Li-ion battery lasts a full day and will keep you in business while you're working those long days. This battery is powerful enough to last 12,000 nails before it needs charged. Having a long battery will cut down on a lot of downtime.
The Paslode has an array of other features that make it perfect for any jobs. One feature is the precise nail placement. The precise nail placement is great because it can reach tight spots and corners. This is ideal for baseboard work because you will be working in tight corners all day.
With convenient, cordless design, the Paslode is very easy to maneuver. It will keep you able to work without getting tired. The Paslode includes a great no-mar tip as well, that protects all of your baseboards during the nailing process.
Pros:
Precise nail placement finishes tight corners perfectly
No downtime with the 7V Li-ion battery
Fires up to 12,000 nails before running out of battery
Comfortable design
Cons:
5. PORTER-CABLE 20V MAX Finish Nailer
Power is the biggest component in this nail gun. This tool will power through the toughest and longest jobs and give you a professional finish on any baseboard. It can be used with any project exterior or interior. It is a multifunctional tool that allows increased productivity and user safety.
Operating on 100% battery power, this nail gun eliminates the use of power cords, hoses, or gas cartridges. It has a powerful motor with consistent and reliable firing power that can be used in a multitude of surfaces and climate conditions.
The Porter-Cable nailer also has many custom features to make the experience user friendly. The nail depth can be adjusted for 1" to 2 ½" nails. It also has a magazine capacity of 100 nails. This feature is great for cutting back downtime of loading nails.
Pros:
High quality and durable housing
100 nail magazine capacity for cutting back downtime
Runs only on battery power, no gas or hoses
Highly versatile nail gun for any job
Cons:
May not last as long as other models on the market
6. BOSTITCH Finish Nailer, Angled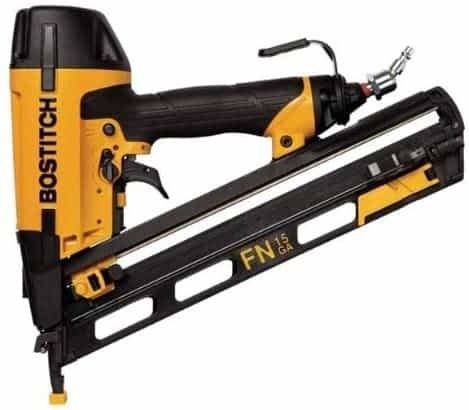 This is a high-quality nail gun that balances price and performance. It is an affordable price but you definitely don't sacrifice anything in power or quality. The Bostitch finish nailer is a great nail gun for baseboards, molding, cabinetry and much more.
This tool is great for baseboards because it is an angled tool. The angled design makes it great for tight corners where you may need to nail a baseboard or crown molding. This nailer is comfortable to hold and use because of its lightweight housing. The lightweight housing is constructed of durable magnesium.
Included with this nail gun are four profile tips and simple fasteners. Also included are no-mar tips, and a durable carrying case. The integrated air blower keeps you, your nailer, and your workspace free of dust and debris. This nailer also features a smart, built-in, LED light for working in closets and dark spaces.
Pros:
Includes many tips, fasteners and accessories
LED work light and integrated air blower make work easier
Lightweight, durable housing provides long-lasting tool
Affordable price
Cons:
Not widely compatible with all nails
How to Pick the Perfect Nail Gun for Baseboards
Now that you've gotten a great overview of some of the absolute best products on the market, the task is to choose one. We'll list our personal favorite, but there are many factors that play into choosing your nailer. In this section, we'll give you a bunch of tips that make the choosing process a little easier for you. Don't worry, we've got you covered. Here are some tips for purchasing the best nail gun for baseboard.
Type of Nail Gun
When you're picking out a nailer, the first thing you'll want to consider is the use. Generally, one nailer can get a wide range of jobs done, but there is rarely a project that can effectively do every project on your list. When we're looking at baseboard jobs, you'll definitely want to go for a finish nailer. Brad nailers are a similar type of nail gun that are great for delicate and precise jobs like baseboards, crown molding, trim and similar projects.
If you'll be working exterior projects, you will find more success with heavy duty nailers such as framing nailers and roofing nailers. Choosing a nailer meant for a job requiring more power could damage your baseboard job. Pin nailers are good for extremely small jobs like cabinet doors and very detailed trim. We recommend a finish nailer or brad nailer for baseboards.
Features
Every nail gun has many different features. This is where it's up to mostly personal preference when deciding what features are most important for you and will make your job more comfortable and enjoyable. However, there are some features we can recommend to get you the best nailer for baseboard.
Sequential nailing is a great feature when you need to nail baseboards. Sequential nailing simple means the nails can be fired faster and without downtime in between. When you're nailing a baseboard, you will usually not be doing a lot of adjustment since the surface is level and straight.
Another great feature for baseboard nailers would be an adjustment depth of 1" to 2 ½". This is going to be the size for almost every – if not all – baseboard jobs you'll be working with. A lightweight design is definitely recommended. When you're working on a baseboard job, you'll be working for long periods of time and using a lot of repetitive motions.
Remember, when you're working with baseboards you will be working in tight corners and small spaces. An angled design or a nail gun optimized for tight spaces is preferred.
Price and Warranty
Price range and budget will vary from person to person. However, there are some rules that should be followed depending on your individual use and situation. If you are planning to keep the nail gun for a long time, you will want to purchase a more expensive and long-lasting tool. If you are only using the nail gun for a single project, it is all right to opt for a more inexpensive product.
If you are considering a less expensive option, be sure that quality is not too far lost to make room for a low price. Make a list of important features and be sure that they have them before getting a less expensive model. If you need a nailer with a lot of power, it may be better to get a more expensive product.
Warranties should also be considered when choosing a nail gun. If you plan to be using the tool frequently and over the course of years to come, try to get a nail gun with a great warranty.
Read more: How do I Choose a Nail Gun For Hardie Trim
How to Nail Baseboard With Nail Gun
Now that you've chosen your perfect nailer, it is probably time to start planning your project. Planning a project means being prepared in advance. If you are unsure how to go about nailing a baseboard with a nailer, don't worry! Here is a simple, step by step guide to help you prepare for nailing your baseboard.
1. Prepare safety precautions and nail gun
Working with power tools can be dangerous and certain precautions should always be taken. Wear goggles that will protect your eyes from debris. Wear work gloves to protect your hands and if possible, steel-toed or other work boots to protect your feet.
Be sure your nail gun is fully charged if it has a batter. Make sure you have enough nails for the job and that the nail gun is fully loaded.
2. Prepare the baseboard
Before starting the nailing process, the baseboard needs to be prepared. Measure the wall where the baseboard will stretch. The baseboard should be enough to cover the entire length of the wall.
After measuring the baseboard, it must be cut. Cut the edges of the baseboards at 45 degrees so they can form a neat corner when applied.
3. Glue the baseboard to the wall
Before you begin nailing, use a small amount of wood glue to stick the baseboard to the wall. Do not use too much wood glue! If the baseboard has too much wood glue on it, it will slide around and feel unstable. The glue can also be messy.
4. Fasten the baseboard with nails
When you are ready to add the nails, position your nailer flat against the baseboard's surface. Pull the trigger to fire a nail in one end of the baseboard. Nail the other end. Fill in the space between them with a nail about every 20 inches.
FAQ
What kind of nail gun do you use for baseboards?
While there are many kinds of nail guns out there, the best nail gun to use for baseboards is a finish nailer. A finish nailer is designed to handle smaller projects. It has enough power to secure a baseboard, but not so much power that it will destroy the beautiful finish of the baseboard.
Can you use a pin nailer for baseboards?
Pin nailers can handle very small jobs like trim details and cabinet doors. A pin nailer would be capable of nailing a baseboard, but it is not the best choice. A pin nailer could hold the baseboard if you add some caulk or glue to the baseboard as well.
What nail gun should I use for baseboards?
Either a brad nailer or finish nailer should be used for baseboards. These nailers are usually adjustable for 1" to 2 ½" nails. That is the perfect range for baseboards. These types of nailers are also sturdier than pin nailers, keeping the baseboard on longer.
How much does it cost to install baseboards?
Installing baseboards on your own is the most cost-effective way, and it isn't very difficult. The only cost you'll have to cover is materials – usually only the nail gun, wood, and paint. Professional installation is usually charged by linear foot as well as labor. A standard living room would usually run you $120-$320 just in labor costs.
How do you cut angles for baseboards?
Baseboards need to be cut at angles so they will sit flat against the corners of the room. To cut a baseboard at an angle, use a Table saw or miter saw to cut the baseboard at a 45-degree angle. This will allow the corners to meet evenly.
Conclusion
This wraps up our review on the best nail gun for baseboards. The winner of the round up is the Porter-Cable 20V MAX Finish Nailer. This nailer has much more features and accessories than any of the other options. The best feature of this nailer is the elimination of any hose, compressor or gas cartridges. This makes it much more convenient and powerful.